Appendix A: Letters from Mission Colleagues
1. From Bernard Hakken to Jennie Gosselink
Bombay, India
September 21, 1922
My dear Mrs. Gosselink:
We have completed another portion of our journey and so I thought I had better write you again to let you know how George is getting along. I am glad to say that he is getting along about as well as anybody could possibly get along and he seems to be enjoying the trip immensely. As far as I know, he has never lost his cheerful disposition for one minute and has been one of the finest of traveling companions.
We were particularly fortunate in the fact that we had such a fine man as Rev. Moerdyk to look out for us and to show us how to do things. I suppose that George has written and told you how fine he has been. We were also fortunate in the weather conditions. At no time was there a storm of any kind all the way which made it very fine for us.
We leave here tomorrow on the last part of our journey together because George will stay in Busrah while we undoubtedly will be sent to Bahrain for our language study. I suppose that we won't see him for two years or possibly only one, but I am sure that he will get along in fine shape, because he is the kind of man that will always be liked wherever he goes because of his disposition, character and ability. It has been a real pleasure for us to know him and to associate with him. It has also been a pleasure to write you, and if at any time in the future you may want any information I can give or I can be of assistance to you in any way, I will be glad to do so.
Very sincerely yours,
Bernard D. Hakken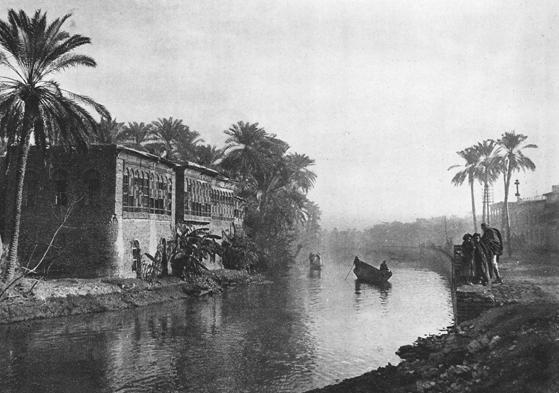 Ashar Creek
2. From Dorothy Van Ess to Jennie Gosselink
Basrah, Mesopotamia
June 11, 1924
Dear Mrs. Gosselink,
I meant to write you a long time before this, to tell you how much my husband and I appreciated the letter which you and Mr. Gosselink sent us last December. We almost feel as though we know you all, for it seems as though George is a member of our family. We are looking forward to seeing and knowing you all when we come to America next year.
We have become as attached to George as though he were really our own young brother (I am not quite old enough to claim him as a son!). It has been the greatest possible pleasure to have him in our home. My mother has grown so fond of him this winter too, and he has done a great many thoughtful things for her. As for John and Alice, they feel that they own "Uncle George," body and soul! They were delighted with the Easter cards which Nina sent them and they send her their best thanks.
You said in your letter that you wondered if George was always as optimistic as his letters sound. I can tell you that he always seems so to us! I have never seen a person with so few "ups and downs" – it is all "up" with him. There has certainly been a blessing on his work in the school, which is no doubt one reason for his being contented. The school boys all think the world of him, and he has lifted such a load from my husband's shoulders. He has thrived on Arab food in the boarding school, and I really think he looks much healthier than when he first came. I wish you could see what snug quarters he and Mr. Moerdyk have, each with their own suite of rooms! It is very sociable for them to be there together – although I must say George always seemed perfectly happy even when he was alone with the boys. We think that he has a wonderful disposition. I know, being a mother, that you will be glad to know that your boy is appreciated.
I hope that he told you what delicious bacon sandwiches we had for our "station" Sunday night supper, from that last "home cured" which came from Pella – we all sent a note of thanks! We have very pleasant times here, and are looking forward now to another moonlight picnic on the river before our family leaves for Persia. Our last such picnic was a celebration for George's birthday, though not on the very day.
We are leaving on the 20th for our vacation in the Persian mountains – a little early, as my husband is rather tired and run down. George and Mr. Moerdyk are anticipating a fine time in the Lebanon this summer.
Will you please give our very best regards to all your family – including the grandfather and grandmother, of course. You may always rest assured that George has his own "folks" in Arabia. With all good wishes,
Yours very sincerely,
Dorothy Van Ess
3. From Dirk and Minnie Dykstra to George Gosselink
146 Tigris Front
Amara, Iraq
July 14, 1925
Dear Mr. Gosselink,
Here's wishing you a safe, pleasant and interesting trip to the U.S.A. It has been ever so nice to have you with us these three years and we are looking forward to the future with gladness when we can welcome you once more to the field and to our circle. Let us hear from you occasionally so we can keep in touch with you. Till we meet again. Harmoodee sends salaams "wajid" and "come back."
Sincerely yours,
Minnie W. Dykstra
---
Amara
July 15, 1925
Dear George:
This date tells me that you will soon be leaving us for the U.S.A. and I am hastening to shake hands with you by means of this letter, and also to ask you for your address at home so that we can put some of our "valuable time" in writing you a letter. Trust you will have a good trip all the way, and will find the folks at home in the best of health.
I am sorry that I had to leave you so unceremoniously at that time and that I burdened you with some of my things left behind. Still, in the years to come it will be a pleasanter thought that I left some of my things than if I had taken some of your things with me. So after all, it might have been worse.
Our latch string is always out, and we shall be glad to put you up in Amara till you can find a home to live in, and also be glad to get it for you and have it fixed up, so be sure to let us know what it is you want and when you want it, and Presto, it will be ready.
Sincerely yours,
D. Dykstra